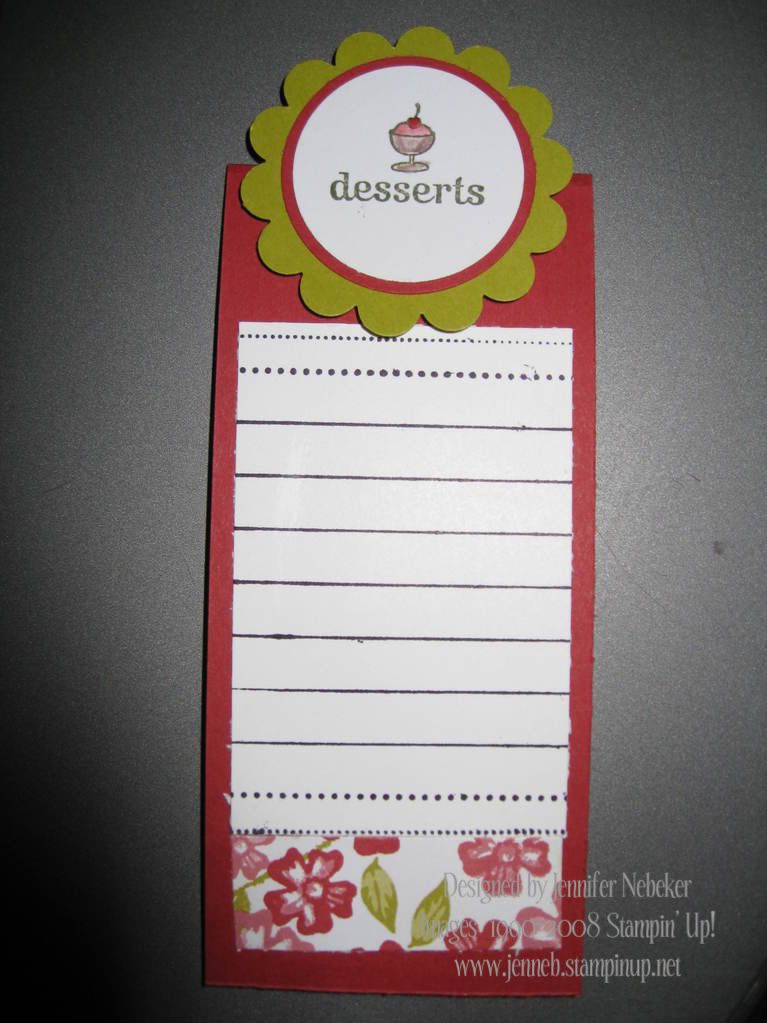 Cook Book Mark
Dimensions:
9x2 of Riding Hood Red card stock (folded in half)
5/8x 1-3/4 Bella Rose Designer Paper
1-3/4-Whisper White stamped with recipe card
1-1/4 circle punch-Whisper White
1-3/8 cirlce punch-Riding Hood Red
Scallop Circle punch-Kiwi Kiss
Stamp set-From the Kitchen Of
Magnets for the inside bottom of bookmark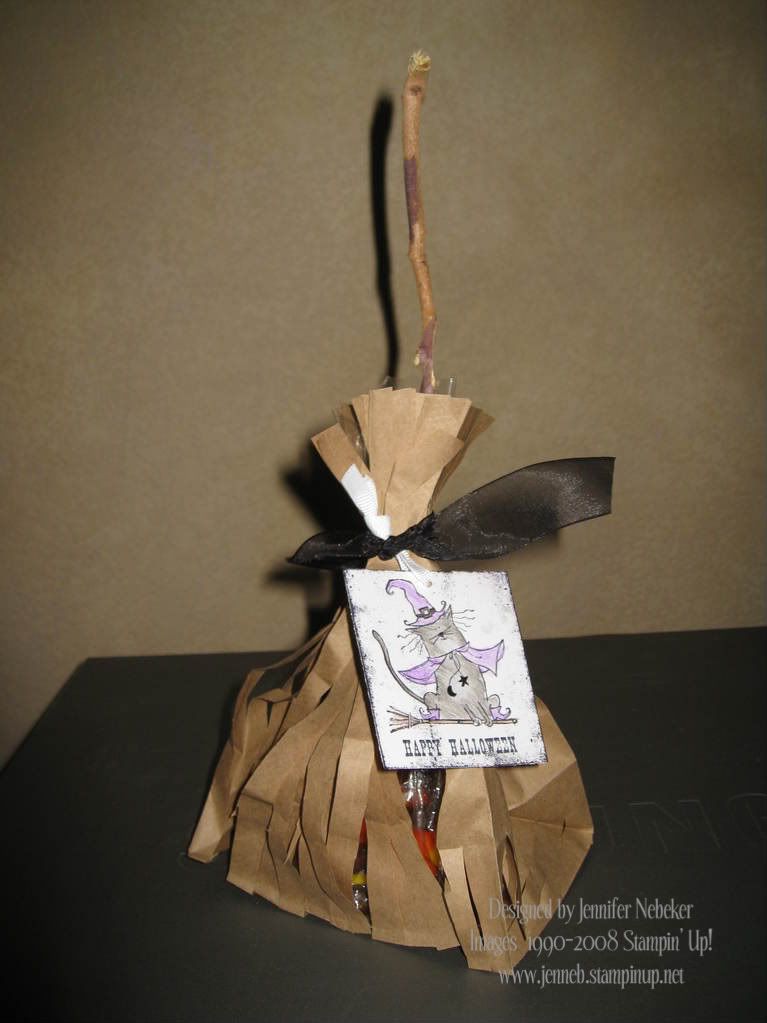 Witches Broom Treat Bag
I copied this from the SU Catalog. Thought it was so cute. I forgot to give some of you Cello bags with your kit...sorry. I also did not include the broom handle (stick). I thought most of you could find your own stick and have better luck finding a good one than I did here in the desert. I used: Whisper White Card Stock, Black Ink, Haunting Halloween Set, All Holiday Set and colored with Watercolor Pencils & blender pen.
Instructions
: Trim down your brown paper bag from the top, so that it is proportion to your treat you are going to give. I cut about 1/3 off the top. Then cut 1/2" strips from the top of the bag down to the bottom. Stop cutting before you cut all the way through as to leave the bag/strips attached to the bottom. Insert your treats in the cello bag and stick/handle and gather up the bag strips and tie the tag. I gave you hemp to tie the tag to the bag. I used the black ribbon and white ribbon in my sample, but decided that the hemp would give it more natural feel. Have fun!
Turkey Punch Card
4X4 card using: More Mustard, Choc. Chip, Old Olive, Ruby Red, Pumpkin Pie, Black, Whisper White card stock & Choc. Chip Ribbon.
Scallop circle punch for the feathers, 3/4 circle punch for the head, 1-3/8 circle punch for the body, Square Scallop punch for the feet (just used the corners of the square scallop or you can use a flower from the Boho blossom punch or Trio Flower punch), Square punch for the hat and I used the circle punches on the crop-a-dile for the buttons and the eyes. I used small glue dots to adhere the feathers to the body, but you can also use Sticky Strip or any other strong adhesive.